G
OO
GLE
ADSE
NSE
OPTIMIZATION TIPS FOR BETTER REVENUE & BETTER UX


AdSense is the most widely used ad product used by publishers across the web. Due to its wide availability, it has increased Google's ability to further attract top advertisers to its platform. This means that AdSense has remained a powerful ad monetization tool for most publishers.
However, due to the complex nature of the ad ecosystem, many publishers are often missing best practices and other Google AdSense optimization tricks on their websites.
Researchers have estimated that
nea
rly 80-90% of AdSense users are lacking some of the most common optimization tips and best practices
. Below, I'll outline what these are and how to implement them in your AdSense account.
The best way to start is by doing a FAQ around some of the most common terms and questions AdSense publishers ask.
I'll start here and provide advanced insights to those who may be looking for a more detailed edge in how they monetize their web properties with AdSense.
WHAT IS ACTIVE VIEW CPM

?

Active View CPM is when at least 50% of an ad is displayed on the screen for 1 second. This is important to publishers; as it is a core metric advertisers use for determining viewability.

It is one of the ways publishers can earn money from display ads.

Many advertisers will only bid or buy viewable ads
HOW DOES GOOGLE ADSENSE DEFINE A PAGEVIEW AND CTR?
In AdSense, a pageview occurs anytime a page is loaded with ads. CTR defines the click-through-rate percentage of a pageview's ad impressions to total user clicks.
Ad impressions are accumulated as advertiser ads are placed in different areas of a publisher's site as a visitor browses through pages.
Having a lot of pageviews that generate a large number of non-viewable ads with very low CTRs (or 0% CTR) could be indicative of a high rate of navigation bounces
WHAT ARE THE MOST POPULAR ADSENSE AD SIZES?
The most popular AdSense ad sizes are not necessarily the ones that are best for revenue and user experience; however, they often have some of the largest competition for advertisers for fill space. These includes: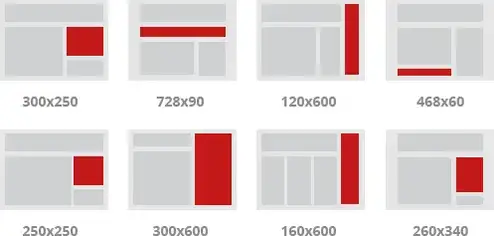 336 x 280 large rectangle

300 x 250 medium rectangle

728 x 90 leaderboard

300 x 600 half page

320 x 100 large mobile banner
Display both text and image ads. Limiting ad types to a single form can really limit the amount of competition for a particular ad placement.
ENSURE GOOGLE POLICY COMPLIANCE AND AVOID LONG-TERM ISSUES
Do not disguise ads. Keep ads looking like ads. Being deceptive about where ads are placed (i.e. close to buttons and navigation) will generate false clicks; which can lead to you getting banned.
Furthermore, make sure you don't encourage accidental clicks.
I've seen users banned in AdSense for telling visitors, in a tongue-in-cheek format, to support the site and click some ads.
Outside of Google policy, ensure ads are not interrupting a visitors ability to actually consume content (i.e. breaking up words, covering content, etc.).
Make sure the site is easy to navigate. Navigation plays a huge role in both the quantity and quality of pageviews generated from each user session.
We did some tests on website redesigns and found that
usability optimizations
generally end up being way better investments of time.
ADDING ADSENSE SEARCH FOR SEARCH MONETIZATION
A lot of publishers fail to leverage the AdSense Search monetization feature inside of AdSense.
It
's as easy as adding the AdSense search box to your sites pages (or maybe even just your homepage).
Some publishers see increased ad earnings from adding this feature to their websites. AdSense Search allows publishers to earn a percentage of revenue from search ads that generate revenue from searches that occur from the installed Google search boxes on the publisher's page.
Placing this in the publisher's navigation bar is typically one of the best ways to do this.